Anyone but Alex: The English Brothers #3 (The Blueberry Lane Series - The English Brothers)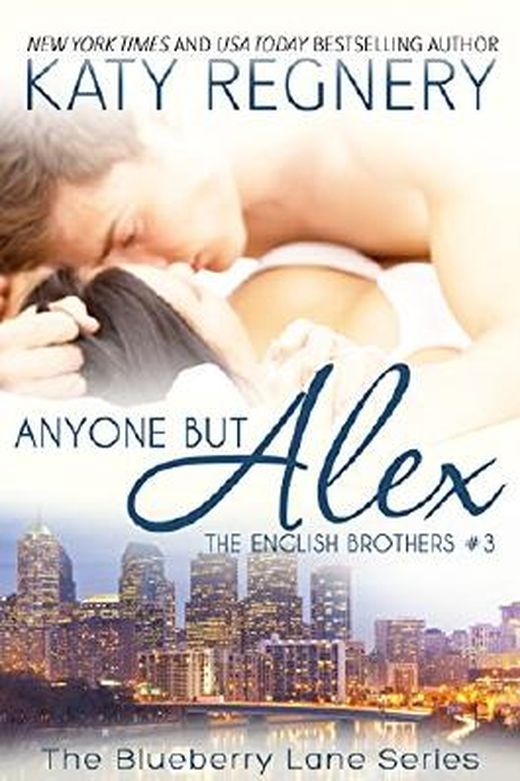 Zu diesem Buch gibt es noch keine Kurzmeinung. Hilf anderen Lesern, indem du das Buch bewertest und eine Kurzmeinung oder Rezension veröffentlichst.
Auf der Suche nach deinem neuen Lieblingsbuch? Melde dich bei LovelyBooks an, entdecke neuen Lesestoff und aufregende Buchaktionen.
Inhaltsangabe zu "Anyone but Alex: The English Brothers #3 (The Blueberry Lane Series - The English Brothers)"
"Katy Regnery is a fresh new voice. I eagerly await every Katy book and I tell everyone I know to read them!" --Carly Phillips, NY Times Bestselling Author Anyone but Alex is the third of six books about the Philadelphia-based, wildly-handsome English brothers who are all on the look-out for love. (Sort of. Barrett and Fitz are officially off the market, Alex has sampled every piece of available ass from Rittenhouse Square to the Liberty Bell, Stratton can't seem to see what's right in front of him, and don't even get me started on super hottie, Weston...) Alex English, the well-known man whore of the country club set, has always preferred to play the field, eschewing a chance with Miss Right for a satisfying quickie with Miss Right-Now. But after seeing his two older brothers take the plunge, something has been aching inside of Alex, and no amount of casual sex seems to fill the void in his heart. Jessica Winslow, whose older brothers are best friends with the English brothers, has returned home from a fifteen-year stay in England, only to find herself face-to-face with her childhood crush, Alex English, on her first night home. She's heard all the rumors, but Jessie remembers the older boy who was so kind to her as a child, and can't help reaching out to Alex in friendship. Between disapproving brothers, scheming exes, and the biggest business deal of English & Sons' illustrious history, Alex and Jessie's budding romance is going to be put to the test. The question is...will it be strong enough to be their happily-ever-after? _________ *All books in The Blueberry Lane Series can be enjoyed as standalone novels.* THE BLUEBERRY LANE SERIES: THE ENGLISH BROTHERS (Blueberry Lane Books #1-6 & 11) Breaking Up with Barrett Falling for Fitz Anyone but Alex Seduced by Stratton Wild about Weston Kiss Me Kate Marrying Mr. English THE WINSLOW BROTHERS (Blueberry Lane Books #7-10) Bidding on Brooks Proposing to Preston Crazy about Cameron Campaigning for Christopher THE ROUSSEAUS - Coming soon! (Blueberry Lane Books #12-14) Jonquils for Jax Marry Me Mad J.C. and the Bijoux Jolis
Buchdetails
Aktuelle Ausgabe
Verlag:
Katharine Gilliam Regnery
Erscheinungsdatum:
03.09.2014
Rezensionen und Bewertungen
Gespräche aus der Community zum Buch
Starte mit "Neu" die erste Leserunde, Buchverlosung oder das erste Thema.
Buchdetails
Aktuelle Ausgabe
Verlag:
Katharine Gilliam Regnery
Erscheinungsdatum:
03.09.2014