An Unseen Attraction (Sins of the Cities)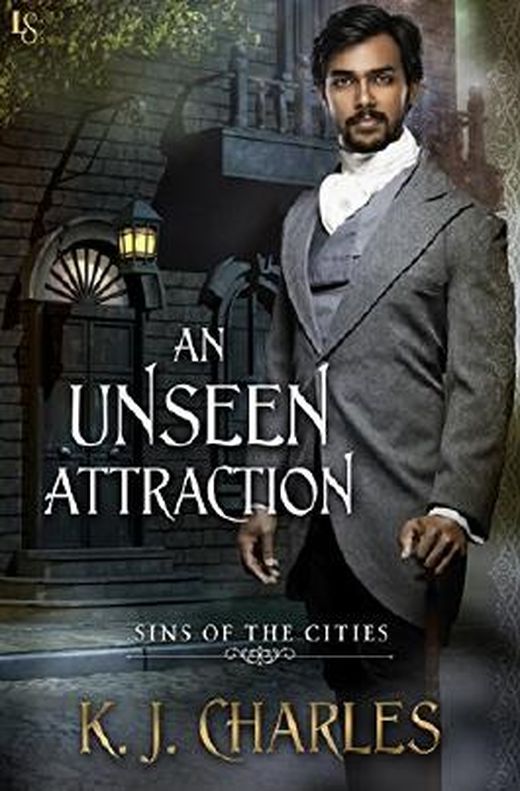 Neue Kurzmeinungen
Thrilling, sexy, hot, authentic, a great book from an extraordinary female author. Historical gay romance at its best. I enjoyed it!
Eine solide Story in wie immer gutem Schreibstil, diesmal garniert mit einer ruhigeren, erwachsenen Romanze.
Alle 3 Bewertungen lesen
Auf der Suche nach deinem neuen Lieblingsbuch? Melde dich bei LovelyBooks an, entdecke neuen Lesestoff und aufregende Buchaktionen.
Inhaltsangabe zu "An Unseen Attraction (Sins of the Cities)"
A slow-burning romance and a chilling mystery bind two singular men in the suspenseful first book of a new Victorian series from K. J. Charles. Lodging-house keeper Clem Talleyfer prefers a quiet life. He's happy with his hobbies, his work—and especially with his lodger Rowley Green, who becomes a friend over their long fireside evenings together. If only neat, precise, irresistible Mr. Green were interested in more than friendship. . . . Rowley just wants to be left alone—at least until he meets Clem, with his odd, charming ways and his glorious eyes. Two quiet men, lodging in the same house, coming to an understanding . . . it could be perfect. Then the brutally murdered corpse of another lodger is dumped on their doorstep and their peaceful life is shattered. Now Clem and Rowley find themselves caught up in a mystery, threatened on all sides by violent men, with a deadly London fog closing in on them. If they're to see their way through, the pair must learn to share their secrets—and their hearts. Look for the Society of Gentlemen series by K. J. Charles: A FASHIONABLE INDULGENCE | THE RUIN OF GABRIEL ASHLEIGH | A SEDITIOUS AFFAIR | A GENTLEMAN'S POSITION Praise for An Unseen Attraction "A particular pleasure of [K. J.] Charles's work is spending time with her articulate (and often scathing) protagonists, who skewer their interlocutors and make agonizing admissions with fluency that is a joy to behold. Now, in contrast, comes Clem. . . . Rowley has no problem with words; he simply chooses not to reveal his well-armored heart. What they see in each other is a generosity of spirit revealed in everyday gestures."—Publishers Weekly (starred review) "The writing is witty and captivating and the worldbuilding is meticulous as [Charles] brings to life a richly diverse London, from dusty taxidermist shops to riotous acrobat shows."—RT Book Reviews "K. J. Charles is a superb storyteller and has once again crafted both an intriguing and engrossing story and a tender romance between two well-drawn protagonists whose unique personality traits inform their emotional and sexual relationships. Add to that the way she so thoroughly immerses the reader in the sights, sounds and smells of Victorian London, and the strong cast of secondary characters—some of whom will star in future books—and it's fair to say that she's got another winning series on her hands."—All About Romance "An Unseen Attraction is a fascinating page-turner . . . and a charmingly tender romance between two ordinary yet extraordinary characters."—Romantic Historical Reviews "An intense, suspenseful and thoroughly enjoyable read . . . K. J. Charles's atmospheric and suspenseful Victorian romance takes us to a seemingly run-of-the-mill area of London where tenants of a rooming house find themselves caught up in a mystery."—Straight Shootin' Book Reviews "Highly enjoyable, thought provoking, attractively produced and a thoroughly satisfying read."—Sinfully Gay Romance Book Reviews "So romantic and sexy."—Joyfully Jay "[Clem and Rowley are] nuanced and multifaceted. . . . Their chemistry is off the charts."—Just Love Romance "Thoroughly entertaining."—Prism Book Alliance Includes an excerpt from another Loveswept title.
Buchdetails
Aktuelle Ausgabe
Erscheinungsdatum:
21.02.2017
Rezensionen und Bewertungen
Gespräche aus der Community zum Buch
Starte mit "Neu" die erste Leserunde, Buchverlosung oder das erste Thema.
Buchdetails
Aktuelle Ausgabe
Erscheinungsdatum:
21.02.2017
Band 1 der Reihe "Sins of the Cities"