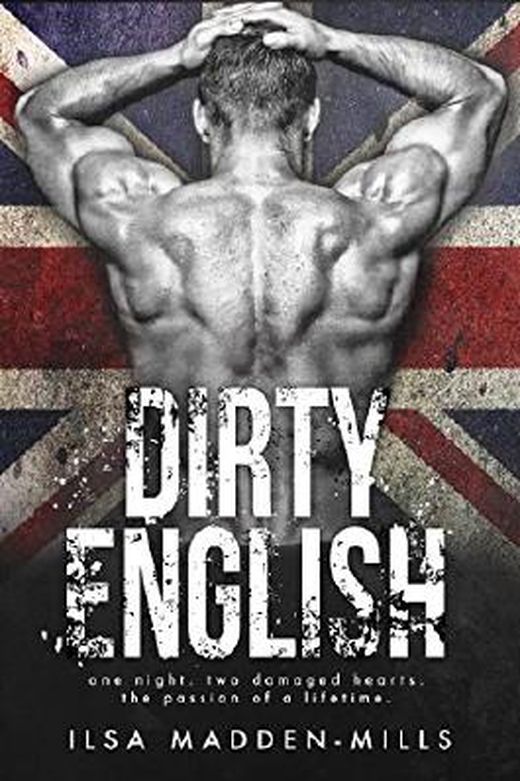 Neue Kurzmeinungen

An manchen Stellen etwas vorhersehbar.

I love it when the roles are reversed. He knows what he wants, she's hesitant because he's a fighter - but he loves Jane Austen.
Alle 4 Bewertungen lesen
Auf der Suche nach deinem neuen Lieblingsbuch? Melde dich bei LovelyBooks an, entdecke neuen Lesestoff und aufregende Buchaktionen.
Inhaltsangabe zu "Dirty English"
THE BRITISH ARE COMING! THE BRITISH ARE COMING! Read the #1 Book on Amazon! From New York Times best-selling author Ilsa Madden-Mills comes a new stand alone romance.... A scarred fighter. A girl with rules. One night of unbridled passion. There are three things you need to know about Elizabeth Bennett: she's smart as a whip, always in control, and lives by a set of carefully crafted rules. She's learned the hard way that people you love the most always hurt you in the end. But then she meets Declan Blay, the new neighbor at her apartment complex. A tattooed British street fighter, he's the campus bad boy she's supposed to avoid, but when he saves her from a frat party gone bad, all her rules about sex and love fly out the window. She gives him one night of unbridled passion, but he longs for more. With only a cardboard-thin wall separating their bedrooms, he dreams of possessing the vulnerable girl next door forever. One night. Two damaged hearts. The passion of a lifetime. *A modern love story inspired by Pride and Prejudice* *DIRTY ENGLISH is an 80,000 word novel, but also enjoy the first five chapters of Ilsa's VERY BAD THINGS at the end of DIRTY ENGLISH! Warning: 18 and over please. Book contains language, sexual situations, and triggers. Early Praise for DIRTY ENGLISH "I would give this book a million stars if I could..." Stephanie, Goodreads "5 Stars of Yummy British!! This book was AMAZING!! I am so in love with Declan right now...he is in top running with my favorite BBF's!!" Witchy Richey's Booktastic Reviews "This very well may be my favorite Ilsa Madden-Mills book. In fact, this is one of my top five reads of 2015!" ~Becca Reads A Lot "Dirty English was one of my sexiest reads of the year! I am a huge of Ilsa Madden-Mills AND Pride and Prejudice, so needless to say I could NOT wait to get my hands on this book. I laughed, I cried, I swooned. I mean come on, there is nothing better than hot British twins." Kristen, Goodreads "This is my first time reading something by this author! Raw, emotionally gritty, it packs a hell of a punch right from the very first page..I LOVED this for the simple fact that I've read sh*tloads of fighter books and this just ticks every box and more; it's not your run of the mill fighter book..." Kitty Kats Crazy About Books "Oh Jesus, where do I start....I was entranced from the first page. Ms. Madden-Mills pulls you in with a hero and heroine who are both flawed and beautiful, empty yet overflowing with emotions, broken yet whole, scared yet so brave." Tonia, Goodreads "Holy hell, this is a HOT sexy book with an amazing hero and a lot of heart." Tia Louise, International bestselling author "By far the best book I have read this year and that is saying something cause I am always reading!" April, Goodreads Ilsa Madden-Mills' Bio New York Times and USA Today best-selling author Ilsa Madden-Mills writes about strong heroines and sexy alpha males that sometimes you just want to slap. She's addicted to all things fantasy, including unicorns and sword-wielding heroes in books. Other fascinations include frothy coffee beverages, dark chocolate, Instagram, Ian Somerhalder (seriously hot), astronomy (she's a Gemini), Sephora make-up, and tattoos. She has a degree in English and a Master's in Education. When she's not pecking away on her computer, she shops for cool magnets, paints old furniture, and eats her weight in sushi. Ilsa's other books are part of the Briarcrest Academy Series. Each book is a complete standalone about different couples: VERY BAD THINGS VERY WICKED BEGINNINGS VERY WICKED THINGS VERY TWISTED THINGS
Buchdetails
Aktuelle Ausgabe
Erscheinungsdatum:
10.10.2015
Rezensionen und Bewertungen
Gespräche aus der Community zum Buch
Starte mit "Neu" die erste Leserunde, Buchverlosung oder das erste Thema.
Buchdetails
Aktuelle Ausgabe
Erscheinungsdatum:
10.10.2015