Essential Actionscript 2.0
Object-Oriented Development with ActionScript 2.0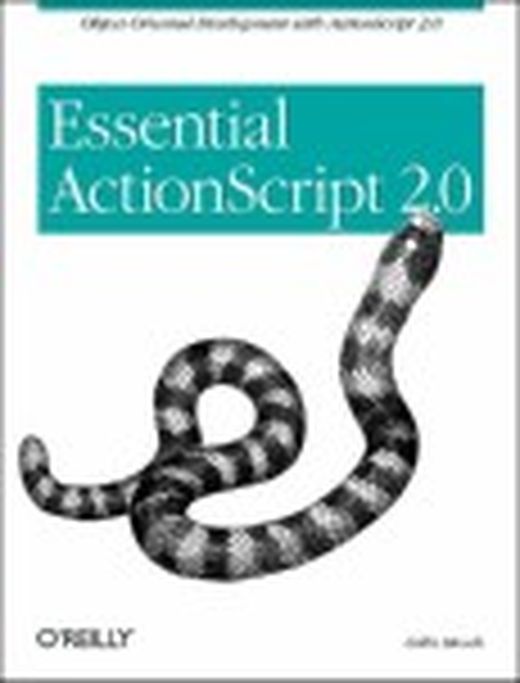 Zu diesem Buch gibt es noch keine Kurzmeinung. Hilf anderen Lesern, indem du das Buch bewertest und eine Kurzmeinung oder Rezension veröffentlichst.
Auf der Suche nach deinem neuen Lieblingsbuch? Melde dich bei LovelyBooks an, entdecke neuen Lesestoff und aufregende Buchaktionen.
Inhaltsangabe
In September 2003, Macromedia released Flash MX 2004, and with it, ActionScript 2.0, a dramatically improved version of Flash's programming language. ActionScript 2.0 introduces a formal object-oriented programming syntax and methodology for creating Flash applications. From a developer's perspective, the new OOP-based techniques in ActionScript 2.0 make applications more natural to plan and conceptualize, more stable, more reusable across projects, easier to maintain, change, and expand upon, and much more. In short, they enhance the entire development process.§§In Essential ActionScript 2.0, bestselling author Colin Moock--one of the most universally respected developers in the Flash community--covers everything you'll need to know about the new ActionScript language and its methodologies for producing movies, animation, and applications on the web. Moock guides readers through this important new territory with his trademark easy-to-understand style and expertise. Moock's goal throughout the book is not just to get you to use object-oriented programming in your daily Flash work: he wants you to reap the benefits of OOP; he wants you to understand ActionScript 2.0 completely. And without question, Moock is the author who can make this happen.§§Essential ActionScript 2.0 begins with a tour of the language, including the fundamentals of object-oriented concepts, syntax, and usage. Those who are new to OOP will learn the basics and how to apply their understanding. Those who are familiar with OOP will leverage their prior experience to learn about Flash-based OOP. The next part of the book shows how to structure entire applications with ActionScript 2.0, teaching you best practices and techniques to build scalable, extensible, stable apps. Next, you'll explore a variety of approaches to various programming situations by applying object-oriented programming strategies, known as design patterns, to Flash.§§Experienced Flash developers and programmers coming from other languages will enjoy the sheer depth of Moocks's coverage and expertise in Essential ActionScript 2.0. Novice programmers will appreciate the frequent, low-jargon explanations that are often glossed over by advanced programming books. As usual, Moock guarantees quality and accuracy by working closely with Macromedia Flash engineers, including Rebecca Sun, lead developer of ActionScript 2.0.§§Whether you're ready to make the move to ActionScript 2.0 now or simply assessing it for the future, you'll find everything you need to know within this book. Essential ActionScript 2.0 is the one book every ActionScript coder must own.
Buchdetails
Aktuelle Ausgabe
Verlag:
Oreilly & Associates Inc
Erscheinungsdatum:
18.06.2004
Rezensionen und Bewertungen
Gespräche aus der Community zum Buch
Starte mit "Neu" die erste Leserunde, Buchverlosung oder das erste Thema.
Buchdetails
Aktuelle Ausgabe
Verlag:
Oreilly & Associates Inc
Erscheinungsdatum:
18.06.2004